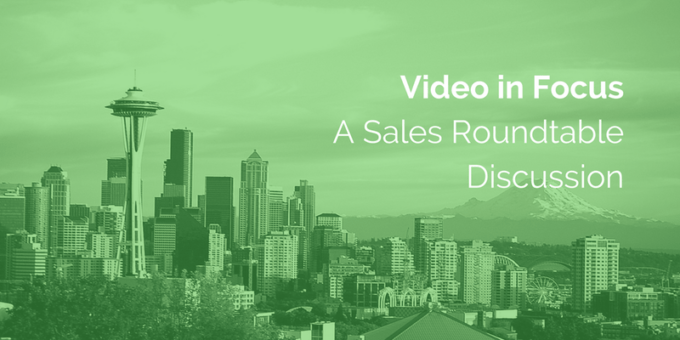 Join Vidyard in Seattle This Thursday to Warm Up Your Cold Leads
Join our friends at Vidyard in Seattle on Nov 16th at 5:30pm!
RSVP For Free Event via Eventbrite with the link below: 
https://www.eventbrite.ca/e/warm-up-your-cold-leads-with-video-tickets-38882276937
DESCRIPTION
Have you been hearing of ways video can be used to warm up your cold leads and closed deals, but not sure where to start? Come to our Video for Sales Meetup and we'll set you up for success with roundtable discussions led by practitioners that are crushing their sales goals right now with video, like Garret Adkins from Bizible:
Discussion leads and topics:
Garret Adkins, Chief Weird Officer at Bizible (his words, not ours!)
Why video works better than text for creating, and measuring meaningful relationships and engagement
Ryan Schroeder, Senior Program Manager, MarTech at MicrosoftTBD
Barney Brown, Co-Founder & EVP, WorkCastHow to use video throughout the deal cycle to boost close rates
Adrian Hembruch, Mid Market Account Executive at VidyardWhat and how you can add personal video to your sales cadence
Chris Ortolano, Founder of Outbound EdgeThe art and science of personalization and persona development
Event schedule:
5:00pm – 5:30pm: Doors open for general attendees
5:30pm – 5:40pm: Welcome Message from Vidyard
5:40pm – 5:50pm: Introductions by discussion leads
5:50pm – 6:30pm: Roundtable discussions (speed dating style)
6:30pm – 7:00pm: Networking
Who should come to this event?
Marketing professionals and B2B Sales ManagersDigital Marketing and Production AgenciesVidyard customers and prospective clientsAnyone that's interested in learning more about the power of video for sales and marketing
The Video in Focus meet-up is open to anyone interested in how to harness the power of video. This is a great opportunity to connect your peers and pick up some new tips and tricks that you can implement to maximize your video strategy right away.
Download GoVideo by Vidyard chrome extension and practice recording and sending a few videos out before the meetup. That way you'll get a sense of how easy it is to get started! The event is a roundtable-style so you'll have plenty of time to ask questions, share successes (and failures!), and get inspired by your peers.
See you on the 16th!