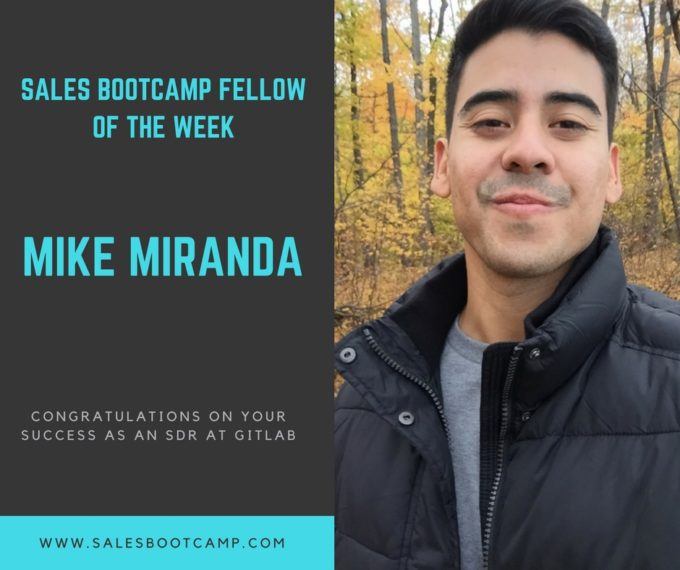 Fellow of the Week: Mike Miranda
Mike Miranda, an alumni of the Sales Bootcamp Fellowship, is currently rocking it in his SDR role at GitLab in Los Angeles. A believer in not taking no for an answer, Sales Bootcamp provided the perfect opportunity for him because we offered exactly what he was looking for- a way to break into software sales. After our talent match team connected him with GitLab and mentored him throughout his interview process, he accepted the offer, knowing it was the right opportunity for him from the start.
Mike quickly realized that he thrives in sales and loves working at GitLab in particular. It was a huge learning curve from day one till now, but mainly in terms of logistics (how to use the different tools for outreach and discovery like Salesforce, and learning the different techniques that SDRs use when getting on the phone and having 30 seconds to pitch someone). He learned that as an SDR, you have to build rapport really quickly and learn how to get people engaged immediately.
We are so impressed with Mike's accomplishments so far. He met his first month's quota within his first 2 weeks of being on the phone, and in his second month he exceeded his quota by 300% making him the top SDR for that month! As he is in his third month now, he's already on track to be up on the leader board with a top spot once again. Way to go, Mike!
Right off the bat, his goal was to add enough value to his managers so they would want to bring him on full time after his 3-month fellowship. The Account Executive that Mike worked directly with was constantly sending recommendations to the directors above him- Mike truly felt like his AE had his back. Mike recognizes how encouraging his entire team has been throughout his time at GitLab and is grateful for their mentorship and support in leading him to success.
Mike's manager, Jeffrey Broussard, said "you are a strong example and leader of what it takes to be successful and to keep things fun. You deserve recognition for that. My idea is to highlight you and your work in a group setting."
Sales Bootcamp has been a pivotal resource in the beginning steps of his sales career path. Our online bootcamp was very practical for Mike in terms of learning the terminology in the industry and the tools that SDRs use (he particularly benefited from the video training on Salesforce). He appreciated having a strong relationship with his sales coach from Sales Bootcamp, who gave him specific strategies and advice, and also added him to the Sales Bootcamp Sales Development Slack channel, which has been a useful resource for him to keep up to date on the SDR world. The main thing that Mike received from the coaching was very practical advice in terms of etiquette for how to approach certain situations on his phone calls. Listening to and applying his sales coach's honest feedback and advice made Mike feel very comfortable and confident in his role.
Mike's top tips for other SDRs: "Engaging with the SDR community, whether that's on LinkedIn or Slack, keeping up with webinars that may be relevant to what you're doing, reading articles, and always learning and improving. Always maintain a positive attitude because it's roller coaster. Keeping a positive attitude is extremely effective and pivotal to success as an SDR. Don't be nervous about asking for help or asking for best practices from top team players."
Moving forward, Mike strives to "continue to stay on top by never getting comfortable with complacency, staying humble, continuing to learn, and working hard."
Congratulations, Mike, for a successful start to your sales career- keep crushing it and we look forward to watching you grow!