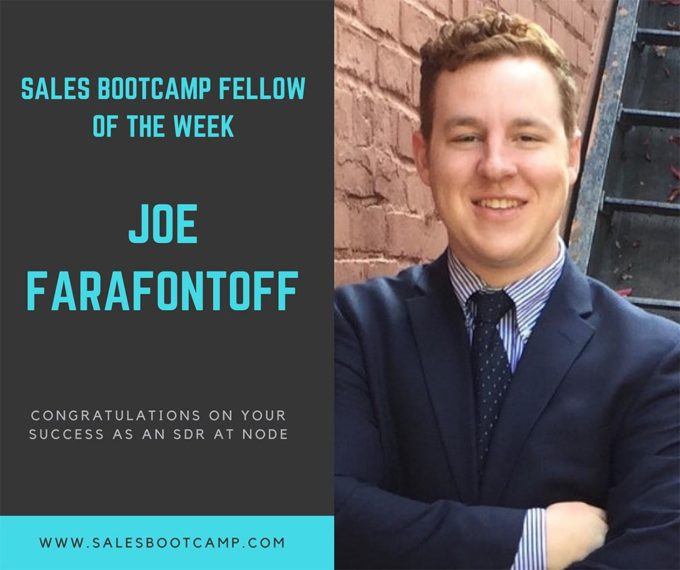 Fellow of the Week: Joe Farafontoff
This week we are highlighting Joe Farafontoff as Sales Bootcamp's Fellow of the Week!
We are proud of Joe's accomplishments so far at Node, through Sales Bootcamp's Fellowship placement. Joe first discovered Sales Bootcamp online, and after hearing that his second cousin went through Sales Bootcamp as well and had a positive experience, he decided to take the leap and sign up for the one week online sales course. Once he started working with our talent match team for an SDR placement, he was introduced to Node and immediately felt at home. He had a smooth interview and on-boarding process, and has been working there full-time since February 2018. Joe chose Node because he felt an initial connection to the team, and after seeing that Mark Cuban had invested in the company, he believed there was upside potential. He is very excited about Node's new product developments as well as his career growth with the company.
Ashleigh Early, Sales Bootcamp's Fellowship coach, worked closely with Joe in transitioning into the new SDR role. Ashleigh provided strategies for both inbound and outbound calls, and answered any questions he had on their weekly phone call. She gave him specific coaching and tips on how to succeed and accelerate in the SDR role. Joe's training guided him in adapting to the role and also learning how to be meticulous with his work.
Joe's top tips for fellow SDRs:
"One thing I figured out quickly in the role was that the types of calls are completely different. What really helped was setting the right mindset and working on time management to get call blocks in order. Time management is critical to success in the role and being able to track leads efficiently. Also, when the role gets tough, it's important to just keep going."
Joe has been on top of his numbers each month, working hard, and standing out.
"Sales Bootcamp is a great resource to find your first job. They were truly helpful in my transition to the SDR role, and I highly recommend working with their team."
Congratulations to Joe for his success, and we wish him all the best for his future endeavors!